A Few things that I made lately.
In my Tree Nursery I have 20 Persimmon Trees, 20 Wild Plum Trees that are ready to go. The Wild Plums are about 5 feet tall, the Persimmons are 3 feet or so. The Wild Plum is a small thicket-forming tree and is one of the first trees to bloom in the spring. The Wild Plum produces a bright-red edible fruit which provides excellent food and cover for deer and other Wildlife.
The Persimmon is a small to medium tree which produces fruit loved by deer ( and some people too ) the male & female flowers are borne on different trees so several trees need to be planted together.
The Persimmon & Wild Plum are for Wildlife enhancement by providing food & cover.
Also in the Tree Nursery I have 25 Swamp White Oak which is a fairly-fast growing tree that may reach a dia. of 3 feet. Grows well in all types of sites. Despite its name this species does not grow in swamps. The acorns are one of the favored fall foods for deer and turkey. These trees are smaller and will be easy to transplant this fall for oak tree reforestation.
I also have 35 Loblolly Pine which is a fast growing pine that grows well in poor, dry upland and rich bottomland soils. The best Pine to grow north of the Missouri river. Similar in appearance of Shortleaf Pine with bigger cones. These are nice size, healthy trees about 4 feet tall which would be really nice in the lawn or any where you want beautiful Pines.
If interested give me a call and we can talk about you getting trees.
Sawed up some lumber during the nice weather. Using the shop as a kiln, with the wood furnace and dehumidifier running all the time I'm happy how the wood is drying.
Honeysuckle Eradication and the Timber Stand Improvement for the farm is on hold till I hear back from NRCS on the Environmental Quality Incentive Program. Winter is a good time to remove Bush Honeysuckle & do Timber Stand Improvement plus low branch trimming on trees (especially oak trees). I can mill your logs into lumber or cut & split it into fire wood and with the Grabble & Bush Hog I can get your patch of woods looking good. I can't do a whole forest but I can improve patches of woods. I waste very little of the wood almost all of it is used for firewood if nothing else. So if you have a thicket instead of a Nature Missouri Woods let me know and we can work on a plan & action on fixing it.
Wow, Sure is nice outside. We rented a space at Unique Treasures at Hawk Point
hoping to sell items there plus we have items up at the Clarksville Visitor Center for sale, so we need to make more stuff. I'm going to see if I can pull up some dead Cedar stumps today for bases for tables. I'm sure I will cut some cull trees that need to be remove for Timber Stand Improvement also, so much work needs to be done in the woods its hard to stick to one objective. I working on the Bush Honey Suckle Eradication with the NRCS so it looks like will be able get that going in the spring. Here is a picture of our space at Unique Treasures after we sat it up, will be adding more items soon. plus a story on Honey Suckle.
http://www.ksdk.com/story/news/local/2014/10/15/honeysuckle-spreading-missouri-illinois/17300613/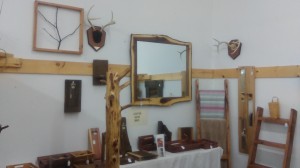 For Eagle Days
we are displaying Native Wood Products for sale.
Welcome to Northfork Ecological Services and Native Wood Products!
Some recent items built from sustainably harvested timber from our family farm near Silex, Missouri. Timber is selectively harvested to help improve the landscape for future growth and wildlife management.  All products are unique and hand-made!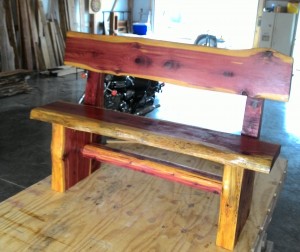 Cedar Bench